Contact persons:
Bouchta Sahraoui: e-mail: This e-mail address is being protected from spambots. You need JavaScript enabled to view it , tel : +33 2 41 73 54 89
Sylvie Dabos-Seignon: e-mail: This e-mail address is being protected from spambots. You need JavaScript enabled to view it tel : +33 2 41 73 52 29
Important: In Case Yyou need help here you have mobile number (Bouchta): +33 6 73 34 80 65

Accomodation
52 rooms are already booked at Bon Pasteur center (walking distance 25 min. to the University).
44 rooms: single bed and 4 rooms with two beds each.


We can also help searching low cost accommodation available at the student house of University Angers in walking distance from the conference center.
If you would like us to book for you, please let us know as soon as possible (before the end of May 2011).
Other colleagues will have to choose among the hotels listed below:
Hotels
---
They have been classified as either close to the city centre or close to the train station (Gare Angers St Laud). The UFR Science, University of Angers is easily connected to the city centre by public transportation during the day (bus 1).

Close to the train station (Gare Angers St Laud) & city centre:
Travel information
---
Faculty of Science, University of Angers is located at 2, Boulevard Lavoisier, on the district Belle-Beille (Angers, France). It is 15 minutes (20-25 minutes by bus) drive from Angers city centre and Angers train station (Gare Angers St Laud). Bus 1 easily connects Faculty of Science to the train station via the city centre; the stop closer to conference venue is called "Resto U").
The buses Nr. 4 (Direction Beaucouzé) and Nr. 6 (Direction Val de Maine/Bouchemaine/Chantourteau) from the Bon Pasteur center ("Bon Pasteur") moving towards the conference venue during the day; the stop is called "ESSCA". From there 2 min. walking distance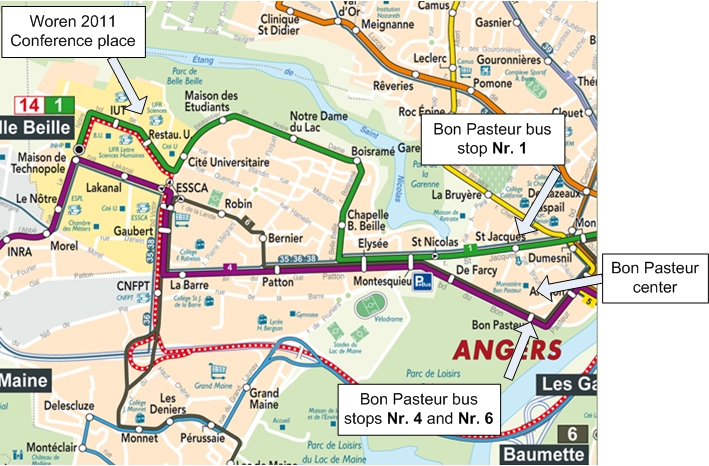 Map of the buses: http://bustram.irigo.fr/pages/plans/semaine.php
Website of the Angers city transports: http://bustram.irigo.fr/

The exact address:

Bâtiment L, UFR Sciences
2, Boulevard Lavoisier
Angers, France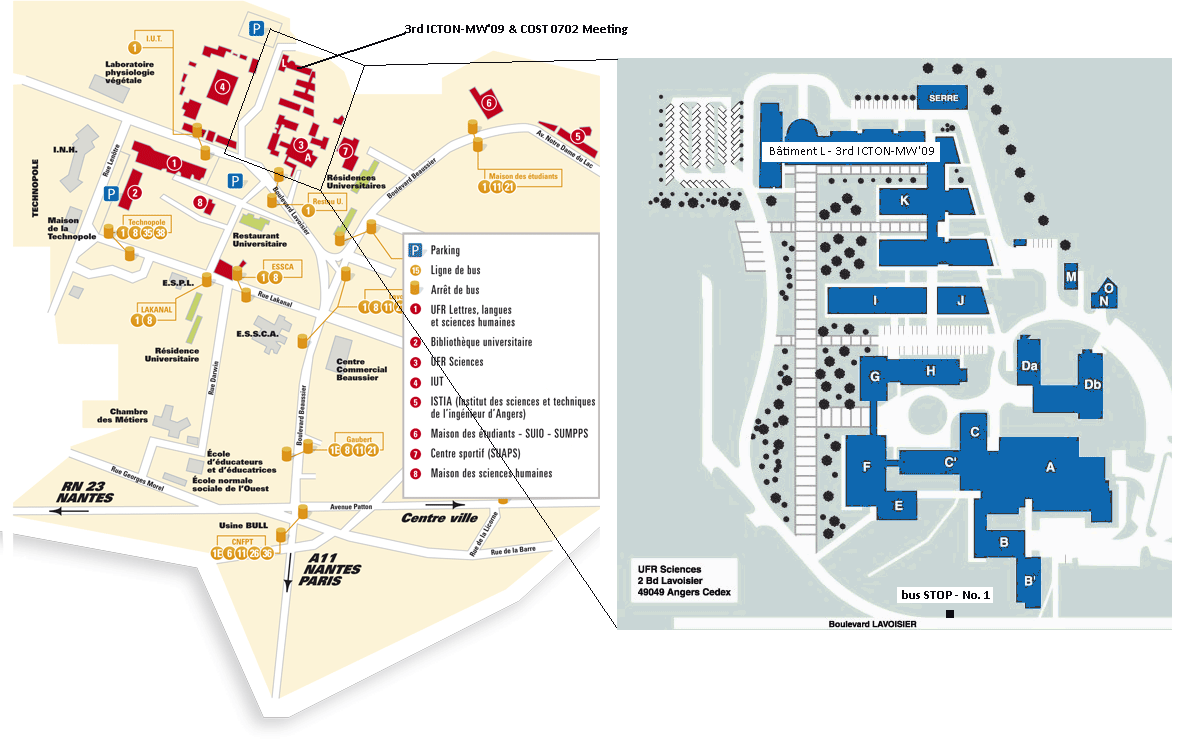 View Larger Map
The way to Angers
by Plane
The closest airports to the Conference Venue in Angers are:
Nantes Atlantique Airport (French: Aéroport Nantes Atlantique, formerly known as Aéroport Château Bougon) (IATA: NTE, ICAO: LFRS):
Number one internatioal airport in the West (18 flights a day to Paris, all of the European capitals at less than two hours from Nantes, 75 destinations served).
Tours Loire Valley Airport or Tours Val de Loire Airport (French: Aéroport Tours Val de Loire) (IATA: TUF, ICAO: LFOT):
The airport has flights to London, Dublin, Figari, Marseille....
Other airports:
Paris - Orly Airport (French: Aéroport de Paris - Orly) (IATA: ORY, ICAO: LFPO):
It has flights to cities in Europe, the Middle East, Africa, the Caribbean, and North America.
Paris - Charles de Gaulle Airport (French: Aéroport Paris - Charles de Gaulle), also known as Roissy Airport (or just Roissy in French) (IATA: CDG, ICAO: LFPG):
Is one of the world's principal aviation centres, as well as France's main international airport.
Paris Beauvais Tillé Airport or Aéroport de Paris Beauvais Tillé (IATA: BVA, ICAO: LFOB):
Located 85 km north of Paris. This airport mainly serves low-cost airlines.
by Train
Paris (Montparnasse) - Angers: 93 minutes by TGV (15 connections/day)
Airport Charles de Gaulle - Angers: 2 hours 15 minutes (3 connections/day)
Lyon - Angers: 4 hours (3 connections/day)
Nantes - Angers: 34 minutes by TGV (28 connections/day) and 41 minutes by TER (17 connections/day)
Tours - Angers: 54 minutes by TER (5 connections/day)
Detailed information and reservation of train tickets on the website:
http://www.tgv-europe.com/